Saturday 26th September, 2015
to
Saturday 31st October, 2015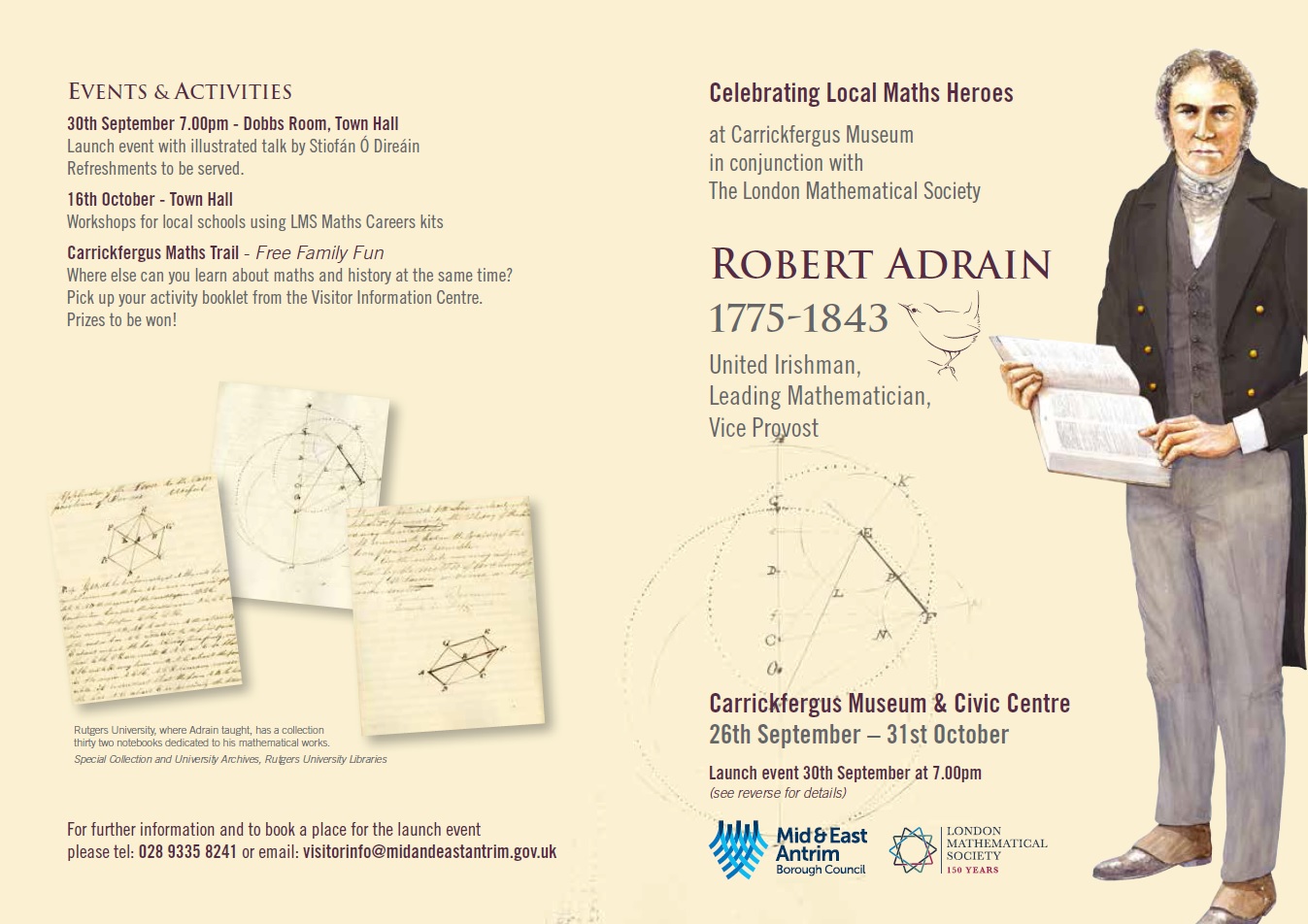 Born near Carrickfergus in 1775, Robert Adrain's life took an unexpected turn following his role in the 1798 insurrection. Shot in the back and left for dead he eventually escaped to New York, where he stayed with the widow of his commanding officer Wolfe Tone, leader of the ill-fated rebellion. 
Having taught in his own school back home in Ballycarry, he turned once more to his teaching career. Rising to become a well-respected Professor of Mathematics, he held a number of posts at various prestigious US institutions, finishing his career as Vice Provost of the University of Pennsylvania. Adrain's contributions to the field of mathematics was considerable and he is credited with raising the standard of the subject. He still ranks as one of the most important mathematicians of his day.
Direct descendant of Adrain, and respected academic Stiofán Ó Direáin, will be delivering a public talk on 30th September at the project's launch event. Ó Direáin has researched the topic in depth, including the family's origins. Adrain's homestead has been traced to the lands in the Rawbrae area near Kilroot.
Following the placement of a blue plaque dedicated to Adrain by the Ulster History Circle in June 2014 Carrickfergus Museum has been sponsored by the London Mathematical Society (LMS) in developing this exhibition as part of the prestigious Society's 150th Anniversary celebrations. 
In addition to the exhibition and public talk the Carrickfergus Museum will be delivering Maths in Action day for local schools. Aimed at Year 10 students, this event will take the form of a range of 'hands on' activities featuring the Institute of Mathematics and its Applications Mathematics outreach kits and will be delivered with the help of staff from the School of Computing and Mathematics at Ulster University.
Families can also join in the fun by picking up a free Carrickfergus Maths Trail, available from the Visitor Information Centre. With prizes to be won, where else could you learn about maths and history at the same time? 
The exhibition will be on display in Carrickfergus Museum from 26th September – 31st October. For more information and to book a place at the launch event please tel: 028 9335 8241 or email: visitorinfo@midandeastantrim.gov.uk 
Submitted by Jesse Garrick on 8 October, 2015 10:53