The London Mathematical Society has produced an exciting programme of scientific meetings as part of its 150th Anniversary celebrations in 2015. These include enhanced activities for Society-sponsored events, as well as activities organised specifically to recognise the Anniversary year.
150th Anniversary Joint meetings
The Society is pleased to announce a number of joint meetings that are taking place during 2015 with:
• The European Mathematical Society to celebrate its 25th Anniversary, which will be held at Birmingham University from 18 to 20 September 2015 (a poster is available here)
• The Edinburgh Mathematical Society at the International Centre for Mathematical Sciences (ICMS) in Edinburgh from 10 to 11 December 2015
• The Royal Astronomical Society and the Institute of Physics in celebration of the centenary of general relativity in November 2015 (date and venue to be confirmed). 
150th Anniversary Celebratory Day at the Joint B(A)MC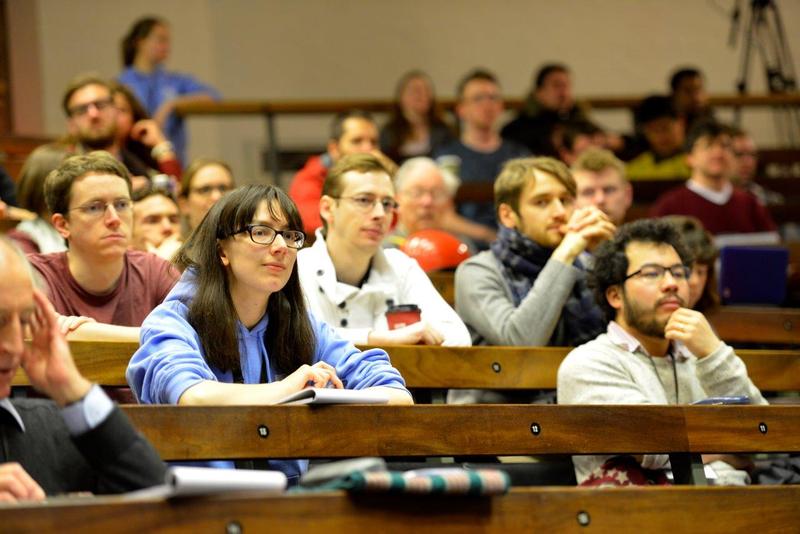 A collaborative meeting between the British Mathematical Colloquium (BMC) and the British Applied Mathematics Colloquium (BAMC) was held at the University of Cambridge from 30 March to 2 April 2015. The organisers of the joint BMC/BAMC Colloquium kindly allocated a day of the event (1 April) to celebrate the LMS 150th Anniversary. Two distinguished mathematicians agreed to speak on that day as part of the celebrations: Professors Robert Calderbank and Andrew Wiles. Robert Calderbank's talk on The Art of Measurement was live-streamed and is available to view on the University of Cambridge YouTube channel here. Additonally, a number of LMS sponsored Scheme 3 Research Groups held workshops on the day and a Society meeting was held, followed by a 150th Anniversary reception.
Other Plenary Speakers during the event included Yves Couder, Jacques Dumais, Phil Hall, Peter Kronheimer, Stanley Osher, Sylvia Serfaty and Wendelin Werner, while a Public Lecture sponsored by the IMA was also given jointly by Stephen Hawking and Michael Green at 7pm on Tuesday 31st March. 
An article on the LMS 150th Anniversary Celebration (1 April) at the 2015 B(A)MC is available here.
Mary Cartwright Lecture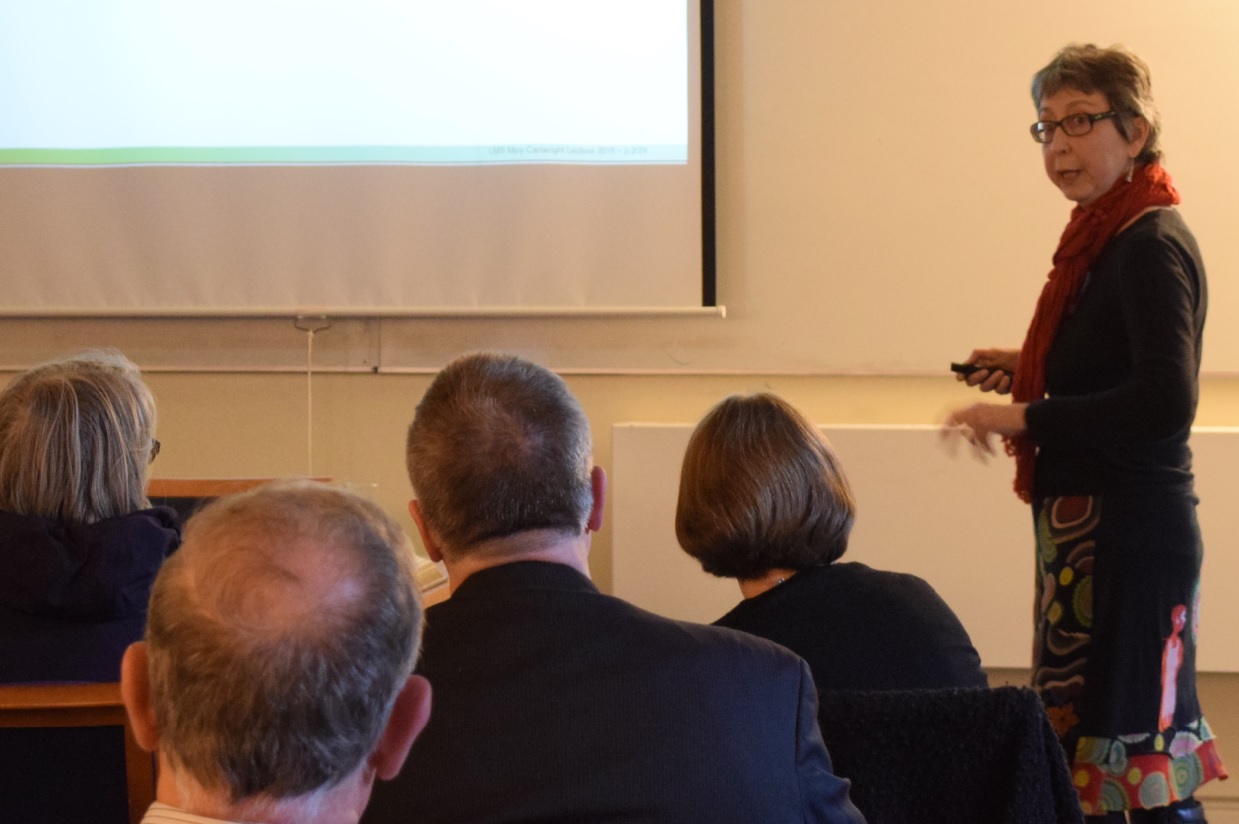 • The 150th Anniversary Mary Cartwright Lecture was given by Professor Maria Esteban (Université Paris-Dauphine) on Bose-Einstein Condensation: History, Model and Recent Mathematical Results at a Society meeting at De Morgan House on 27th February 2015. 
Hardy Lecture Tour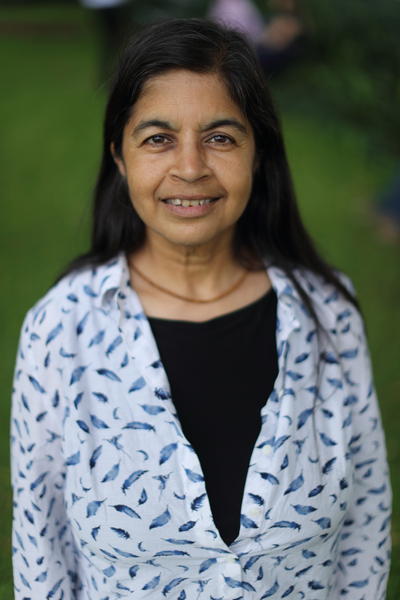 The Society is pleased to announce Professor Nalini Joshi (University of Sydney) as the Special LMS Hardy Fellow for 2015. Professor Joshi will undertake a lecture tour of the UK in the summer which will end with the Hardy Lecture at the Society Meeting on Friday 3 July in London.
The following dates and lecture locations have been confirmed:
| | |
| --- | --- |
| Oxford | 18 June |
| Bath | 19 June |
| Glasgow | 22 June |
| Lancaster | 24 June |
| Loughborough | 26 June |
| Leeds | 29 June |
| Kent | 1 July |
| London | 3 July |
For more informaiton, please contact Elizabeth Fisher (lmsmeetings@lms.ac.uk).
Jointly with the New Zealand Mathematical Society as part of the Forder/Aitken Scheme
The 150th Anniversary Aitken Lecturer will be Professor Steven Galbraith (University of Auckland) who will undertake a lecture tour of institutions throughout the UK. During 2015, Professor Endre Suli (University of Oxford) will visit New Zealand as the Forder Lecturer.
The 150th Anniversary Invited Lecture Series
This series of lectures was given by Professor Michael Shapiro (Michigan State University)  at Durham University from 16 to 20 March 2015.
150th Anniversary Women in Mathematics 4-day event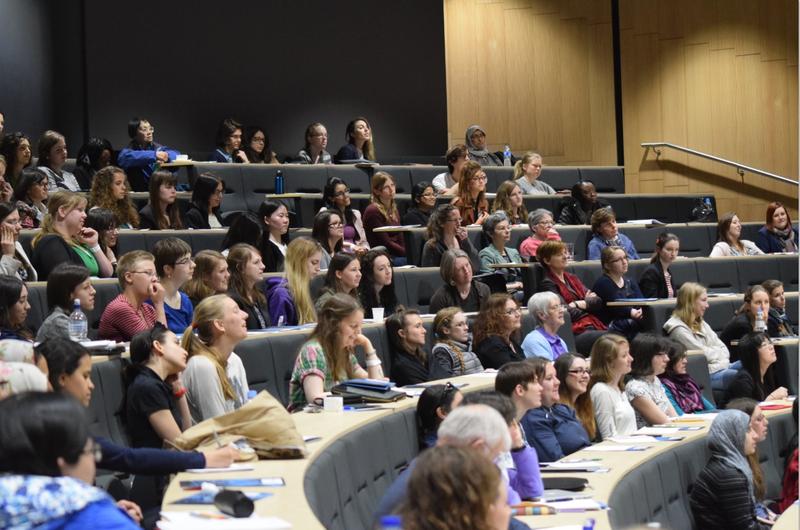 An exciting 4-day event was co-sponsored by and held at Oxford University from 14 to 17 April 2015, when the Society's annual Women in Mathematics Day was expanded with two days for school students and two days for university mathematicians and mathematical scientists.
For the school students each day featured inspiring talks by female mathematicians and workshops in which the students tackled stimulating mathematics themselves, and had opportunities to chat to undergraduates and others about mathematical possibilities beyond school level.
For university mathematicians and mathematical scientists the event comprised a mix of lectures by invited speakers, panel discussions on a range of topics, contributed talks by early career researchers, and poster sessions. Participants had plenty of opportunities to meet other mathematicians, including at a conference dinner on the evening of Thursday 16 April.
150th Anniversary Joint LMS-BSHM De Morgan Meeting
A Joint Meeting of the LMS and the BSHM took place on 9 May to celebrate the life and work of Augustus De Morgan. Speakers included Sloane Despeaux, John Heard, Wilfrid Hodges, Chris Hollings, Adrian Rice and Ian Stewart.
150th Anniversary Computer Science Colloquium at the Royal Society
The LMS Computer Science Committee has organised a major Colloquium on Algorithms and Cryptography to be held at the Royal Society in London on 17 September 2015. Distinguished speakers have been invited from the UK and overseas. Two hundred people will attend the event which will be followed by an Anniversary Reception. Registration will open nearer the time.
150th Anniversary Regional Meetings
The LMS Regional Organisers are providing enhanced annual regional meetings for 2015. The Northern Regional Meeting was held at Lancaster University on 7 April where the meeting incorporated a Wikipedia Editathon. The workshop was on Homotopical Algebra and Geometry.
The Midlands Regional Meeting at the University of Warwick on 7 July will be celebrating the 150th Anniversary through the involvement of international speakers. The topic of the conference is Finite Simple Groups.  
The South West & South Wales Regional Meeting at Southampton University on 14 December will include two high profile speakers from the USA. The topic for the workshop is Aspects of Homotopy Theory. 
LMS-CMI Research Schools during the Anniversary Year
Five Research Schools will be held in 2015. The first School was held at Loughborough from 13-17 April with the second to take place at Sussex in June. Following that Schools will be held in Warwick from 1 - 5 July, Oxford from 5 - 10 July, and Hay-on-Wye from 14 - 20 September. The Research Schools will celebrate the 150th Anniversary.
Young Researchers in Mathematics Conference
As part of this successful annual conference - organised entirely by postgraduate students and held at a different university each year - the LMS is sponsoring a 150th Anniversary Public Lecture and Reception. The 2015 conference will be held from 17 - 20 August at the University of Oxford and the speaker giving the Public Lecture will be LMS Past President Professor Dame Frances Kirwan, FRS. 
150th Anniversary LMS Prospects in Mathematics
This annual event for undergraduate students interested in continuing in research following graduation will be held at Loughborough from 15 - 16 December. The Society is working with the organisers to incorporate a celebratory aspect as part of the event.
Submitted by Jesse Garrick on 22 April, 2015 13:12