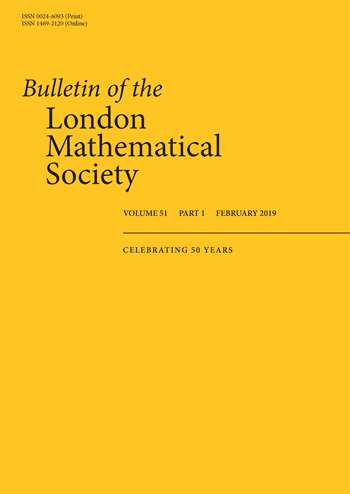 Managing Editors: Andrey Lazarev (Lancaster University, UK) and Sibylle Schroll (University of Cologne, Germany)
Obituaries Editor: H. G. Dales (Lancaster University, UK)
The
Bulletin of the London Mathematical Society
has been publishing leading research in a broad range of mathematical subject areas since 1969. Research articles accepted by the
Bulletin
are of high quality and well-written, with a maximum length of 20 pages. The
Bulletin
also publishes authoritative survey articles (of any length) and
obituaries
of distinguished mathematicians.
The Bulletin welcomes short papers on subjects of general interest that represent a significant advance in mathematical knowledge, as well as submissions that are deemed to stimulate new interest and research activity.
The Bulletin shares an Editorial Board with the Journal of the London Mathematical Society which publishes longer research articles (18 pages and above)
Both journals employ the same high standard of peer review.
The Bulletin is wholly owned and managed by the London Mathematical Society. All surplus income from its publishing programme is used to support mathematicians and mathematics research in the form of research grants, conference grants, prizes, initiatives for early career researchers, and the promotion of mathematics.
Submit to the Bulletin

You may submit a paper electronically as a single PDF file. Please keep the .tex file that precisely corresponds to the PDF version that you are submitting. If your paper is accepted, we will require that particular version of the .tex file. Please do not send the .tex file at this time.
Have a look at the members of the Editorial Board and be prepared to select one whose mathematical interests are closest to the subject of your paper. (Please note that the Editorial Board may re-assign submissions to another Editor when appropriate.)
From 2018, corresponding authors will be asked to provide their ORCID iD as part of the submission process; those without an ORCID ID will be shown how to obtain one. This can be done in just a minute or two via the website https://orcid.org.
Authors may prepare their manuscripts in the 'LMS' document class for LaTeX2e. The class file and its accompanying, concise author guide can be downloaded here.

General Submission Guidelines

When evaluating papers, the Editorial Board considers a number of criteria such as general interest, novelty, innovation, significance and advancement of the field of research.

The Editorial Board and/or Managing Editors will make an initial assessment of all papers against these criteria and typically send only those papers which, in their professional judgement are likely to meet expected standards for full review. Prelimininary expert opinions may be sought as part of this assessment step.

Papers should be submitted in English or French.
Each paper must be submitted exclusively to one journal.
No paper that has been previously published, or which is being considered for publication elsewhere, should be submitted to the London Mathematical Society.
Nor may a paper that is under consideration by the London Mathematical Society be submitted elsewhere.
By submitting your manuscript to this journal you accept that it may be screened for plagiarism against previously published works.

For more information about submitting a paper to this journal, please see these guides:

Author guide which is available here, covers common practices in peer review as well as specific procedures and explanations of the EditFlow paper management system.

The London Mathematical Society has adopted an ethical policy for its journals, including guidance on the expected behaviour of authors, referees and editors. The full policy can be found here. The Society is also in agreement with the principles of the EMS Code of Practice.

Revised versions
If you wish to upload a revision of a previously submitted article, please do not use the link above. Instead, use the status link contained in the email you received from us about your previous submission. If you cannot find the link, then contact lmsjournals@lms.ac.uk

The Editors prefer not to consider multiple versions of the same paper before a decision on the first version is sent, particularly if the changes are minor. If you have received a letter that firmly rejects your paper and does not mention that a resubmission would be considered, you would be advised to submit any revision of your paper to another journal.

The LMS uses the journal management software EditFlow, a registered trademark of Mathematical Sciences Publishers. Further information about the EditFlow software is available here.

Read Published Papers Online

Recently published articles (Early View)

Online Archive of all issues published 1969–present

Please note that LMS Members can opt to receive online access to the Bulletin for their own personal use. Members can subscribe by logging into their LMS Membership Profile, or by sending the annual membership renewal form directly to the London Mathematical Society.

Survey articles

The Bulletin has published authoritative survey articles since its launch in 1969. Since January 2020 all Surveys have been published open access.

The London Mathematical Society acknowledges support from a legacy by Frank Gerrish in the publication of expository articles and surveys where institutional funds are not available.

The Managing Editors of the Bulletin welcome submissions of Survey articles via the Bulletin EditFlow site selecting "survey" as your article type.

A collection of recent Survey articles (2010 - present) is hosted on Wiley Online Library.

Subscribe

Click here to subscribe to this journal or renew your current subscription.

LMS Members can receive free online access to the Bulletin, Journal, and Proceedings of the LMS, if they have signed up for free online access via their LMS membership record. Free online access to these three journals can be activated via their LMS Membership Profile here: www.lms.ac.uk/user and selecting their preferred journals under the "My LMS Membership" tab. The LMS will then notify Wiley, who will then issue members with a username and password to login to the Wiley Online Library.

Statement on pricing. The Society takes care to maintain reasonable and ethical pricing, including free online access for LMS members and for institutions in developing countries. Base subscription prices of individual journals are decided each year based on a balance of criteria reflecting the value to readers and authors. In order to sustain in real terms the funding of the Society's charitable activities, in cases where other indicators are equal the LMS will normally only increase the base journal subscription prices in line with inflation. More information is available on the Society's webpage, www.lms.ac.uk/statement-pricing.

Open Access

The Bulletin is a hybrid journal with standard subscription access as the default, and a paid Gold Open Access option.

Green Open Access/self-archiving

The author, institution or publisher places a version of the article online in a repository or website after publishing in a subscription-based journal – making it freely available to everyone.

Authors may (continue to) post electronic versions of their article up to the version initially accepted for publication‡ on the author's personal website, in a not-for-profit subject-based preprint server or repository, or in a Scholarly Collaboration Network (SCN) that has signed up to the STM article sharing principles, or in the author's company/institutional repository or archive. This right extends to both intranets and the Internet. The accepted version must be accompanied by a legend as follows: "This is the accepted version of the following article: FULL CITE, which has been published in final form at [Link to final article]."

‡ These self-archiving rights do not extend to the final, published version except where the article is published with the paid Open Access option.

Gold Open Access

Authors can opt to make their final published article immediately free to read and reuse by others. An article processing change (APC) is applicable, typically met by an author's instution or funder. The current APC for the Bulletin is $3000.

Licence alternatives:

CC BY (Creative Commons Attribution License)
CC BY-NC (Creative Commons Attribution NonCommercial License)
CC BY-NC-ND (Creative Commons Attribution NonCommercial No Derivative Works License

Once an article is accepted, the corresponding author can opt for OnlineOpen from the Wiley Author Services Dashboard. A link and instructions will be sent to you after accceptance, step-by-step instructions, can be found on the How to Order OnlineOpen page.

Funder requirements

Your funder or institution may require you to publish Gold or Green Open Access. Wiley has an Author Compliance Tool to check the policies of your funder or institution. Some funders have an arrangement to simplify the payment of APCs. Details of Wiley's agreements with major funders can be found on their Funder Agreements page.

Content Sharing

As of July 2017, subscribers of the Bulletin, Journal and Proceedings of the London Mathematical Society, and the Journal of Topology, are able to share content with each other in a new way.

Our publishing partner, Wiley, has introduced a 'peer-to-peer' sharing initiative on their Online Library, where articles published in these journals are accessed digitally. Subscribers (with existing full-text access to the journals) can generate a URL that can be shared with other readers in the form of an ePDF provided by academic paper manager ReadCube.

When shared with a fellow subscriber, the URL provides an unrestricted view of the electronic PDF and the usual ability to download or print it; a non-subscriber is granted restricted access to a read-only PDF with no print or download privileges.

This new way to share articles should benefit researchers, institutions and society as a whole, facilitating collaboration and hopefully achieving a wider readership and impact of research.

On Acceptance

Upon acceptance, you will be asked to agree to assign an Exclusive Licence to Publish to the Society or, alternatively, to opt to make the paper Open Access.

To help you promote your own paper and make it maximally discoverable, cited and shared, Wiley has developed a Promotional Toolkit at http://wileyauthors.com/maximize with ideas specific to promoting individual papers.

Contact Us

Please email the LMS Publications staff via lmsjournals@lms.ac.uk if you have any questions.

Previous Bulletin Editors

1968-73
1968-76
1973-74
1973-77
1973-96
1974-79
1976-79
1977-79
1979-81
1979-84
1981-91
1985-90
1985-90
1990-94
1990-94
1991-93
1993-95
1994-98
1994-99
1995-97
1996-05
1997-01
1997-01
1998-99
1999-02
1999-04
2001-05
2003-04
2005- 16
2005-09
2005-09
2005-15
2005-15
2009-14
2009-14
2014- 19
2014-19
2017-19
J.E. Reeve
B. Fishel
J.E. Reeve
W. Ledermann
J.V. Armitage
R.H. Dyer
C.B. Thomas
D.E. Edmunds
P.M. Neumann
P.M. Neumann
N.H. Bingham
E.C. Lance
J.C. McConnell
J.D.S. Jones
J.H. Rawnsley
P. Holgate
D.J.H. Garling
J.R. Hubbuck
R.J. Archbold
P.G. Dixon
A.R. Pears
F. Rhodes
D. Singerman
D.W.B. Sommerset
A.G. Chetwynd
G. Blower
R.J. Chapman
R.M. Green
N.H. Bingham
J.W. Anderson
J. Brodzki
D.L. Salinger
A. Mikhailov
S. Stevens
T. Ward
P. Jorgensen
M. White
N. L. Biggs
Editor
Book Reviews Editor
Secretary
Editor
Obituaries Editor
Secretary
Book Reviews Editor
Editor
Book Reviews Editor
Editor
Book Reviews Editor
Editor
Editor
Editor
Editor
Book Reviews Editor
Book Reviews Editor
Editor
Editor
Book Reviews Editor
Obituaries Editor
Book Reviews Editor
Book Reviews Editor
Editor
Editor
Editor
Book Reviews Editor
Editor
Obituaries Editor
Editor
Editor
Book Reviews Editor
Book Reviews Editor
Editor
Editor
Editor
Editor
Obituaries Editor