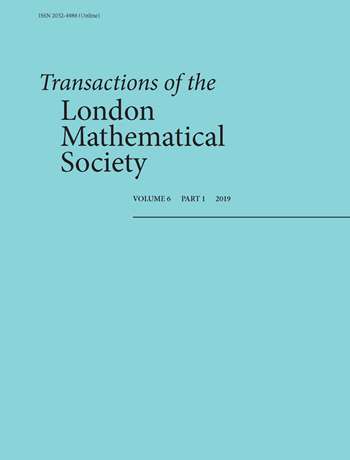 Managing Editors:  José Luis Rodrigo, University of Warwick, UK
The Transactions of the London Mathematical Society is a fully Open Access journal that publishes leading research in a broad range of mathematical subject areas. Articles accepted by the Transactions are of high quality and well-written. The journal is listed in the DOAJ (Directory of Open Access Journals) and the ESCI (Emerging Sources Citation Index).
The Transactions welcomes papers of a general or specialised nature that represent a significant advance in mathematical knowledge, as well as submissions that are deemed to stimulate new interest and research activity.  The journal is peer reviewed to the high standard assured by the London Mathematical Society for all its journals. 
It is the Society's intention that no paper be turned away from the Transactions due to funding constraints.  However, an increasing number of authors now have access to funds to fully cover APCs through agreements made between their institution or funding agency with Wiley. 
Aside from covering the initial costs of publication, the surplus of any paid fee goes to the LMS charitable programme to support the mathematics community in the form of research grants, conference grants, prizes, and initiatives for early career researchers and the promotion of mathematics.
Submit to the Transactions

You may submit a paper electronically as a single PDF file. Please keep the .tex file that precisely corresponds to the PDF version that you are submitting. If your paper is accepted, we will require that particular version of the .tex file. Please do not send the .tex file at this time.
Have a look at the members of the  Editorial Board and be prepared to select one whose mathematical interests are closest to the subject of your paper
From 2018, corresponding authors will be asked to provide their ORCID iD as part of the submission process; those without an ORCID ID will be shown how to obtain one. This can be done in just a minute or two via the website https://orcid.org.
Authors may prepare their manuscripts in the 'LMS' document class for LaTeX2e. The class file and its accompanying, concise author guide can be downloaded here.

 

General Submission Guidelines

Papers should be submitted in English or French.
Each paper must be submitted exclusively to one journal.
No paper that has been previously published, or which is being considered for publication elsewhere, should be submitted to the London Mathematical Society.
Nor may a paper that is under consideration by the London Mathematical Society be submitted elsewhere.
By submitting your manuscript to this journal you accept that it may be screened for plagiarism against previously published works.

For more information about submitting a paper to this journal, please see these guides:

Author guide which is available here, covers common practices in peer review as well as specific procedures and explanations of the EditFlow paper management system.
The London Mathematical Society has adopted an ethical policy for its journals, including guidance on the expected behaviour of authors, referees and editors. The full policy can be found here

Revised versions
If you wish to upload a revision of a previously submitted article, please do not use the link above. Instead, use the status link contained in the email you received from us about your previous submission. If you cannot find the link, then contact lmsjournals@lms.ac.uk

The Editors prefer not to consider multiple versions of the same paper before a decision on the first version is sent, particularly if the changes are minor. If you have received a letter that firmly rejects your paper and does not mention that a resubmission would be considered, you would be advised to submit any revision of your paper to another journal.

​The LMS uses the journal management software EditFlow, a registered trademark of Mathematical Sciences Publishers. Further information about the EditFlow software is available here.

 

Read Published Papers Online

Online Archive of all issues published 2014–present

 

Open Access

The Transactions is a fully Open Access journal  funded by Article Processing Charges (APCs). These charges are payable by the authors with money from their institution or funder. The APC for articles submitted after 2017 is $1250. 

Authors who receive funding from an agency or institution with a Wiley Open Access Account do not pay directly. The charge is paid by the institution or funder. More details are available here. 

Automatic Article Publication Charge waivers and discounts will be given to authors from countries on the Waivers and Discounts List. Authors should submit a waiver or discount request during the submission of their article to lmsjournals@lms.ac.uk. 

 

On Acceptance

Upon acceptance, you will be asked to choose a licence for your paper. Please check whether your institution or funder has a preference.

The options are:

To help you promote your own paper and make it maximally discoverable, cited and shared, Wiley has developed a Promotional Toolkit at http://wileyauthors.com/maximize with ideas specific to promoting individual papers. 

 

Contact Us

Please email the LMS Publications staff via lmsjournals@lms.ac.uk if you have any questions.