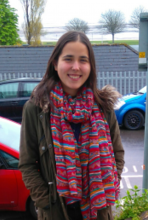 Current Workplace
University of Oxford
Current Role
Research Student for EPSRC Centre for Doctoral Training in Industrially Focused Mathematical Modelling
My Mathematics Success Story is...
I fell in love with mathematics when I was eight years old. There really isn't an explanation as to why or where this passion came from, but I was even then absolutely sure that I wanted to spend the rest of my life studying it. It was my dream to study mathematics in the UK, and I am incredibly grateful to have had the opportunity to do it.
I studied my undergraduate degree in mathematics at Swansea University, and am currently pursuing my DPhil in Industrially Focused Mathematical Modelling at the University of Oxford. I love the peace that comes in mathematics, unique to this area of study, when you have the certainty that what you have discovered is true, as long as it is mathematically sound. It can be a small addition to a pre-existing and mostly closed topic, or it could be a revolutionary thought in a new area. Regardless, it will remain true and perhaps someday someone can find it useful for their own research and applications! Perhaps the work we develop today will be the foundation for scientific and technologic advances in the next 100 years. This universality of mathematics is perhaps my favourite thing. To have this incredible opportunity to do what I love all day every day is something I wouldn't change for the world. I get to constantly learn and get inspired by the incredible people that surround me and I get to work on the things I believe in with my whole heart.
Categories
Women in mathematics
LGBT