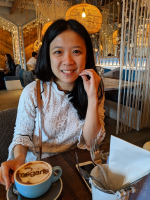 Current Workplace
Boehringer Ingelheim
Current Role
Analytics & insight Manager
My Mathematics Success Story is...
I came to the UK from Hong Kong when I was 17 to study A-Levels in Nottinghamshire, where I met my host family. They are a local family who treat me like their daughter. With their help, I completed A-Level Mathematics and Further Mathematics within a year.
With my host family and teachers' encouragement, I applied to a mathematics school instead of business school. This caused tension in my birth family, because in Asian/Chinese culture, we are all expected to study professional subjects – eg medicine or law. It is a big culture difference, and I also experienced how girls weren't encouraged in the same way that boys were. It is this, in part, which drives me to volunteer and be a role model to students to help both girls and boys find the direction and courage to follow their dreams.
During my first year at university my grandma passed away in the ambulance when she had a heart attack and I didn't understand how this had happened. That is why I wanted to work in the healthcare sector, to get more insight into what happened on that day and to improve the quality of life for others by using mathematics/numbers, which is the way I understanding the world.
After graduating with a BSc in mathematics, I worked in the Department of Health (DH). It was a great experience and being able to communicate/translate via numbers/data is a powerful skillset, especially during decision making/policy setting. At the same time, there is so much I don't know about information/data. After a year of working, I returned to university to study for my first Master's degree, specialising in applied mathematics. I was the only girl and only non-European on the course, which was a strange and odd feeling. Why would I be the only one on the course?
After my Masters I worked as an analyst for the NHS in the north of England for nine years and it seemed like I was always the only girl and minority in the team. During my NHS career, they funded me to do second Master's in statistical epidemiology. I then moved to London to work as a healthcare analytical consultant, who helps others to understand healthcare information.
I recently accepted an invitation to be a member of the Department of Mathematics Advisory Board at the University of York, which is an honour and I want to use this opportunity to help others. I also take part in the mentoring programme run by the award-winning social enterprise STEMettes.
I am proud to have been able to grow up in two distinct family cultures – Chinese parents in Hong Kong and English parents in the UK and understand when I need to speak out. I hope my experience can give some direction to those who would like to walk a similar path, it is not easy, but you are never alone.
Outside of mathematics, I love cooking, reading, meeting new people and I am an active member of Girls Gone International.