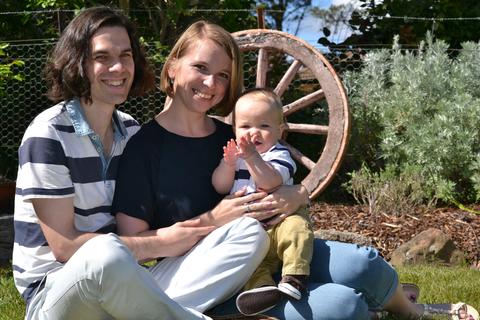 Current Workplace
University of Sydney
Current Role
Professor of Mathematics
My Mathematics Success Story is...
I have loved mathematics as long as I can remember. Numbers were a great comfort to me when as a shy, socially awkward child I was viciously bullied in kindergarten and primary school. At age five, while trying my hardest to remain invisible to the other children, I entertained myself by computing how many minutes I still had to endure before my parents could pick me up.
Although pursuing a career in mathematics was an easy choice, I had no idea what skills and sacrifices succeeding in academia would require; the fact that I am happy and satisfied now has more to do with luck than any carefully considered decisions on my part. The aspects I found most challenging, frequent relocating and two-body problems, are both issues I had never heard of when I embarked on this path.
For about three to six years after earning a PhD, an academic career in pure mathematics requires changing jobs and cities often: sometimes as often as every few months, typically every couple of years. This nomadic lifestyle and the uncertainty of not being able to plan ahead was hard for me to tolerate. I am an extrovert in the sense that I need, and thrive on, social interaction, and I am energised by spending time with the people I love. On the other hand, I am no social butterfly: it takes me time to become comfortable with new people and to make friends. These traits make moving extremely taxing emotionally, and it typically takes me a year to recover and to start feeling at home.
I coped with the loneliness and insecurity of this career stage by always keeping in mind that I could quit. I had fallen in love with Toronto as a PhD student, and going back there to find a job in industry has been my backup plan since; this helped me maintain a sense of control. I also did my best to enjoy the many advantages of living and traveling all around the globe: seeing beautiful places, eating delicious food, meeting interesting people, eventually having a friend to visit in most cities of the world.
The "two-body problem" is a physics pun: it refers to the situation where a dual career academic couple seeks to work at the same institution or at least live in the same city. Often the two halves of such a couple are not at the same stage of their career, or else one is more in demand than the other, and I have had the pleasure of experiencing life on both sides.
I married my ex-husband, a passionate thinker and not a bad dancer either, while I was still working on my undergraduate degree. He was - and still is - a brilliant mathematician seven years my senior, and I spent my PhD years following him from job to job. This made it difficult for me to see myself as an independently worthy researcher, despite working in a different area of mathematics. Having my career largely depend on his success was also rather hard on our relationship, even though in retrospect I was extremely lucky to always have meaningful, beneficial opportunities wherever he went, either through his negotiations or independently.
After that relationship broke up, I started dating a close friend I had met in graduate school: a sweet, nurturing person, talented mathematician, and a few years younger than me. He is exceptionally skilled in keeping communication between us open and free of drama, which we have found to be a key skill in surviving post-doctoral careers as a couple. So far our combined level of success has been enough to keep us afloat as academics, and we are fortunate to have the resources to change our situation and try something else should either of us become chronically unhappy. But as the senior half of this two-body problem I've certainly developed some empathy for my ex-husband's role: negotiating a job for your spouse is hard, awkward, and an unpleasant process altogether.
Despite these challenges I love my life - mathematical and personal - as it currently stands: I have just started a continuing (similar to tenure track) position at the University of Sydney, a friendly department that is a great fit for my interests, located in an exciting, beautiful city. I enjoy research more than I had ever expected, and I have found collaboration to be a great source of pleasure and fulfillment. Back in high school I used to sit with my friends for hours working on challenging math problems, discussing ideas and sharing the delight of discovery. This was my idea of a good party: friends at my house, math, my mom making French fries for us. I am incredibly lucky that these 'parties' are now my job.
While academia lacks flexibility with regards to one's career path and location, it makes up for that by being wonderfully accommodating on a day-to-day level. Flexible work hours mean I have been able to pursue interests outside mathematics: in graduate school I danced competitively, recently I've been learning some aerial and circus skills, and I have slowly built up a good baking repertoire. Being able to travel during summer breaks and do research at different locations is not only exciting, it also enables my partner and me to see our families reasonably often. We had a baby while working as post-doctoral researchers at the Australian National University, and we benefited from generous paid maternity leave, lots of support as I was returning to work, and a welcoming, family-friendly work environment.
I am married to my best friend, and he is the most supportive spouse I could ever wish for. He currently takes care of our one-year-old son full time, and he is set to start a fixed term contract at the University of Sydney later this year. I don't know whether he will eventually find a permanent academic job in Sydney, or whether living so far from our families will be sustainable in the long run, but if there is one piece of hard earned wisdom I have to show for this journey, it is this: it's okay not to know. It's okay to enjoy each year I get to spend doing what I love, and worry about next year as it comes.
Categories
Women in mathematics
Caring responsibilities (including children)
Two body problem
Immigration/working and living internationally